Or rather I wasn't this weekend.
Daddio and I took an overnight trip, sans kids, to Burlington, VT this weekend, which is a rarity in and of itself. But I also did a few things that I
never
do, such as try new things, which I am always hesitant to do. Here is a rundown of our visit:
We dropped off the boys at my mom's house around lunchtime on Saturday and took the Essex, NY ferry across Lake Champlain and over to Vermont. It was a pleasant ride, but I would imagine that it would be much more enjoyable during late spring or early summer, when things are actually green again. No signs of
Champy
, however.
From there we drove into Burlington and stopped to have a quick "in-between" meal. We hadn't eaten lunch and it was about 3:30, so we stopped at a Pizzeria Uno's for a light meal. Daddio ordered chili and a Cobb salad, while I had the veggie soup, which was bordering on the bland side. Daddio shared his salad with me, which is when I tried my first "new" item of the weekend. I ate some of the avocado in the salad, which surprisingly enough, (considering I have worked in a Mexican restaurant before), I had never tried before. It was okay, but a bit too "creamy" for my tastes. After our mini-meal, we checked into our hotel. We stayed at the
Hilton on Battery Street
. Our room looked exactly like this one:
It was nice, but I did have a few complaints about it. For one, our "city view" room actually overlooked the parking garage, but we didn't intend on staying in the room to look out the window the whole time, so that one was forgivable. One of the first things that Daddio noticed was the open, half-empty water bottle sitting on the dresser. Apparently housekeeping missed that while preparing our room? Our shower also leaked water all over the bathroom floor, and I barely had any hot water for my morning shower. Oh, and not that I needed it, but there wasn't a hairdryer in our room, as advertised, and the complimentary coffee sucked. Other than that, everything was nice, especially the bed and comforter. So warm and cozy!
After checking into our hotel, we didn't have a lot of time to do anything except kill an hour or so with
a little shopping trip
before our dinner reservation at
The Windjammer
in South Burlington. It was a pretty good meal. They have a decent salad bar, and the broiled salmon was pretty good, albeit a tad salty. We stuffed ourselves a little beyond full. Oh. And this is where my second "new" experience occurred. I tried some of Daddio's shrimp, and reaffirmed my disgust for shellfish. I really just cannot get past the whole texture thing. Blech.
From there we decided to head back to our hotel and walk down
Church Street Marketplace
. By this time, all of the shops were closed, but we were looking for a place to stop in for a few drinks. We chose, or rather Daddio chose, an
Irish pub
. It was a tad crowded, but I would imagine that was due to the live musical performance by a group called
The Complaints
. They were decent, but nothing that I would
have
to make a point to check out again. While we were there, my third "not myself" incident occurred. Daddio had ordered me a vodka and cranberry juice, (not my fave, but I'm not a big drinker and never know what to order because I don't know the names to any drinks, or what is even in them), and I'm pretty sure that what I actually received was a cranberry juice. So I told him that I would make it easier on him and agreed to drink beer instead. Yeah, that's right.
Beer
. I drank
two
bottles of beer, to be exact, and I
hate
beer. I sucked it up and drank it anyway, but had to draw the line at just two, as I really couldn't stomach the taste after that. I also did a Jell-O shot (because Daddio insisted), and I
hate
Jell-O.
And so ended our night, for the most part. The next morning, after downing some Tylenol, (because even just
one
beer will give me a headache the next day), we ventured out for some breakfast and shopping. Daddio decided that we should "support the locals", so we ate at a little place called
Henry's Diner
.
I suspect that we really stopped there because it was the first restaurant that we came across serving breakfast and Daddio was pretty hungry. It was a typical little diner with typical diner food. And the waitresses wore the typical 50s diner uniforms, in forest green. I had the Belgian waffles with strawberries, and Daddio had some kind of southwest breakfast burrito concoction. It was okay.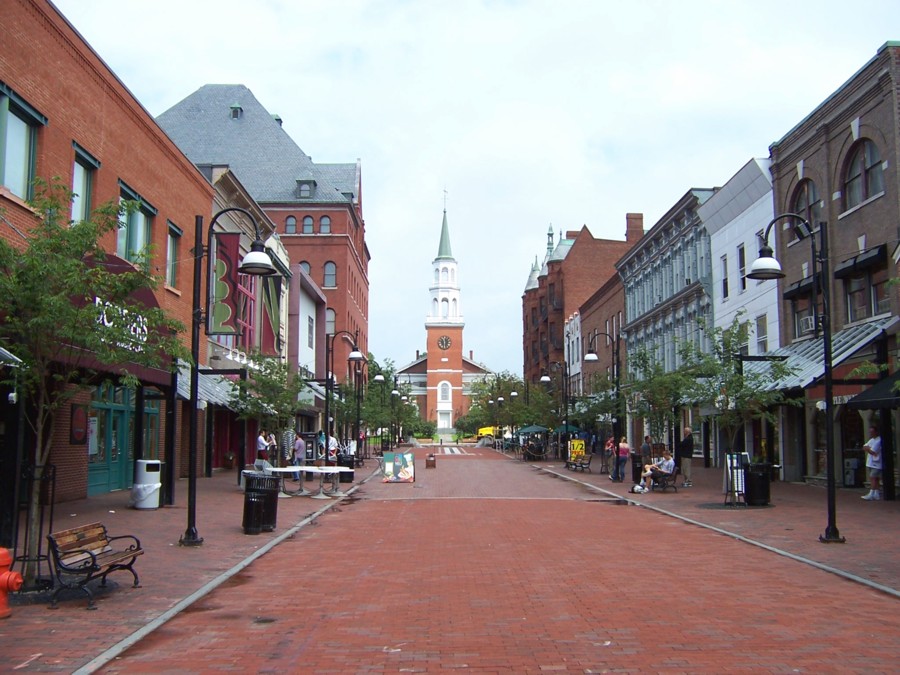 Then we did some shopping at Church Street Marketplace. I love looking at all of the old buildings that are still there, including an old fire station. The nice thing about shopping here is that the whole street is blocked off from any vehicular traffic. We stopped in a few stores, including Eddie Bauer, Borders, LOFT, and of course Daddio had to have some ice cream at the
Ben & Jerry's
shop. (I resisted the urge, thanks to my new weight loss goals).
Overall, it was a great trip, mainly because we were child free! It was so relaxing and we were able to enjoy each other without having to worry about what the boys were getting into or whether they were sitting down and eating their food, etc. Next time, we're aiming for a week-long kid-free trip!